Rubber Band Gun Keychain
Made from solid high quality hard metal, this beauty semi-automatically fires 6 bands and reloads faster than any other rubber band gun on the market. Comes with rubber bands. Tight. Accurate. Iconic. You're Welcome!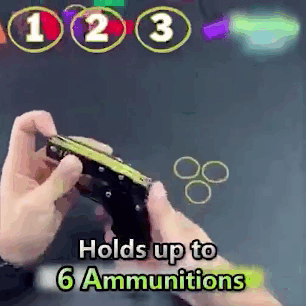 Features:
Instead of pulling rubber bands, simply tap the trigger of this pistol to shoot bands. This toy holds up to 6 ammunitions for rapid-fire action. PLUS the realistic clacking sound of the gears elevates the shooting experience.
REALISTIC CLACKING SOUND – Sounds like the real deal! Its gear releases a crisp, clacking sound every time it turns for a fascinating shooting experience.
PORTABLE & LIGHTWEIGHT – Right by your side when you want to shoot bands! Attach this teeny gun to keys through its ring to use as a keychain. Or you can fold it to fit easily in your pockets.
KICKASS DESIGN – A rubber band slingshot with a twist! Modeled from a real gun, you can simply tap the trigger of this pistol to shoot bands — easier and more fun than traditional slingshots.
LOCK & LOADED – This gun can hold up to 6 ammunitions at the same time for a breathtaking, rapid-fire action. To reload ammos, stretch the bands wide then hang them into the gear's teeth.
SOLID BUILD – Built for intense action! This pistol is plated with zinc alloy that can withstand extreme temperature and corrosion — ideal for any environment.
A few reasons why buy from us:
SAFE SHOPPING
We try our best to make your shopping experience not only pleasant, seamless and hassle-free, but also secure.
FREE SHIPPING
Enjoy flexible international shipping services that currently operate in over 200 countries across the world.
FREE RETURNS
It's okay to change your mind! You can send your order back for a full refund, we've got you covered with our full Buyer protection.
NEW ARRIVALS
Brand new products are available on a regular basis.
PRICE PROMISE
We don't want you to choose between the best value and the best service. That's why we offer competitive pricing.
EXCELLENT CUSTOMER SERVICE
Knowledgeable and professional support team is always happy to help you.
EASY TRACKING
Check your order status online. As easy as that!