Mini Golf Game
If you don't want to go out but still want to find an entertaining sport, it may be time to try out this awesome mini golf game. It's a little guy attached to the end of a golf club that lets you play an extra tiny game of golf. The coolest part about the mini indoor golf game is you can really play a whole course as he has interchangeable clubs that you can swap out for each distance needed to hit. With a separate putting green and tee box, you can set up a new hole each time, and practices play a full 18 rounds in a competitive match with a friend. Not only is it great for actual golf-loving adults or an awesome office game, but it also works as a great gift or toy for kids who might one day like to play real golf. It'll teach them the different clubs you have to use to different angles and distances of shots. Order now!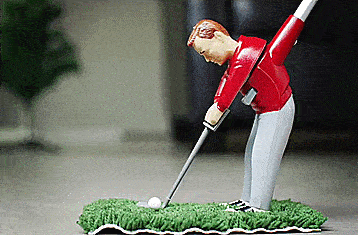 Features:
Happy to bring yourself and friends to start a happy sport every day. Mini Golf Game have a few small companions. This set is very light and can be carried in OUT. It contains two golf club heads for playing.
This is a parent child activity that can enhance emotional exchange. Parents can teach your child how to play golf and this golf machine. This toy provides early development, learning ability, puzzle, thinking ability, creativity, hand-eye coordination, sports, entertainment and life skills. Finger fine skills, physical movement skills, language skills, computing skills, social interaction, life learning skills, cognition process.
Exercise can promote the healthy development of your child's body and mind. Golf competition can promote the development of children's upper limbs muscle and joint ligaments can improve the child's ability to observe, imagination, judgment and patience.
Best birthdays, parties, Halloween, Thanksgiving Christmas New Year presents and lots of fun moments. The highly durable suit is suitable for indoor or outdoor use including lawns, terraces, living rooms, preschool classes and other places. Suitable for neutral, infants, boys, girls, preschoolers, toddlers, children, preschoolers.
Hostile children may be injured and accidental while playing outdoor sports. A dermatologist at your child's safety. These stylish golf suits are designed to take into account the safety of the child and are absolutely harmless. Now is a good father and mother even if you are a new father or mother.
Material: ABS
Product size: about 43.5 * 17 * 9.3cm, the club can be stretched up to 55/65 / 75cm
Packing size: about 43.5 * 17 * 9.3cm
Suitable for 3 years old and above
A few reasons why buy from us:
SAFE SHOPPING
We try our best to make your shopping experience not only pleasant, seamless and hassle-free, but also secure.
FREE SHIPPING
Enjoy flexible international shipping services that currently operate in over 200 countries across the world.
FREE RETURNS
It's okay to change your mind! You can send your order back for a full refund, we've got you covered with our full Buyer protection.
NEW ARRIVALS
Brand new products are available on a regular basis.
PRICE PROMISE
We don't want you to choose between the best value and the best service. That's why we offer competitive pricing.
EXCELLENT CUSTOMER SERVICE
Knowledgeable and professional support team is always happy to help you.
EASY TRACKING
Check your order status online. As easy as that!