Wooden Fish Puzzle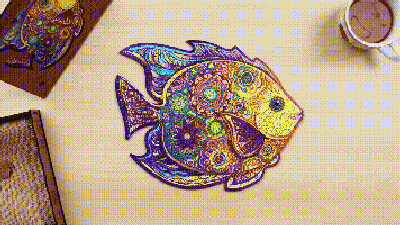 This is not just a puzzle, it is a wooden puzzle. It will be a great gift for both a child and an adult.
Have you ever done scuba diving? Have you seen the bright colors and unusual inhabitants of the marine reefs? Funny fish in corals and anemones. How does an octopus hide? Not? Nothing wrong. The new wooden fish puzzle – "Shining Fish" will take you on an exciting journey to the seabed.
The rich colors and unusual patterns on our fish scales were specially designed by our illustrator.
The assembly will turn into an exciting game – acquaintance with the sea world.
Each figurine is unique. You will have an octopus, dolphin, turtle, and other marine life in your hands. You will become the owner of a real trident and meet the Little Mermaid. To complete the nautical story, you'll find sets of waves, corals, and more.
Traditionally, the shape of the finished puzzle complicates the assembly task.
An exciting game is suitable for school children and adults.
King Size – 30×42 cm (11.8×16.5 in) – 332 pcs – average complexity, age 14+, assembly time 4-6 hours.
Size M – 21×30 cm (8.3×11.8 in) – 196 pcs – average complexity, age 10+, assembly time 2-4 hours.
Size S – 15×21 cm (5.9×8.3 in) – 101 pcs – average complexity, age 7+, assembly time 1-2 hours.
Features:
1. Nature-themed puzzle game-enjoy relaxing time with this mysterious fish, puzzle! There are multiple sizes, our wooden jigsaw puzzle is composed of small pieces shaped like marine creatures.
2. Formaldehyde-free basswood material, smooth surface treatment, high-quality, durable and corrosion-resistant, and a protective layer after environmental dyeing treatment. It can be preserved for decades, hung on the wall, or passed on to others to appreciate.
3. It can promote eye-hand coordination, improve concentration, patience, logical thinking and problem-solving skills. You will be puzzled with the brain puzzles of this jigsaw puzzle game all day long.
4. Looking for a thoughtful birthday or holiday gift? These unique wooden puzzles are the perfect choice! Give your loved one hours of entertainment.
5. Jigsaw puzzles calm the mind and trigger a creative meditation state. They play our creativity, the most valuable parent-child game. Intellectual game for adults and children. Good choice for birthday and Christmas gifts