Gobbler Game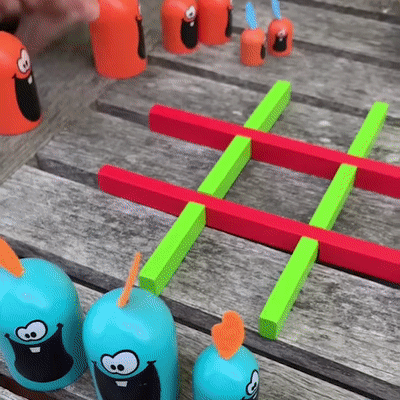 Test your memory and appetite for laughs with this easy to learn and quick game of strategy.
Cartoonish characters bring pizzazz to this Tic-Tac-Toe style game. Just line up three of your Gobblers in a row to win. But watch out! These Gobblers are hungry for fun…and other Gobblers.
Awash in cheerful colours, this board game is made to be treasured. Gobbler Game is the best first strategy game for kids to challenge their parents.
Ages: 5 and Up
Players: 2
A few reasons why buy from us:
SAFE SHOPPING
We try our best to make your shopping experience not only pleasant, seamless and hassle-free, but also secure.
FREE SHIPPING
Enjoy flexible international shipping services that currently operate in over 200 countries across the world.
FREE RETURNS
It's okay to change your mind! You can send your order back for a full refund, we've got you covered with our full Buyer protection.
NEW ARRIVALS
Brand new products are available on a regular basis.
PRICE PROMISE
We don't want you to choose between the best value and the best service. That's why we offer competitive pricing.
EXCELLENT CUSTOMER SERVICE
Knowledgeable and professional support team is always happy to help you.
EASY TRACKING
Check your order status online. As easy as that!