Electric Airplane Toy
Are you looking for a fun toy for young children in the house? Introducing to you our electric airplane toy. This is a great toy to develop your child's imagination and hand-eye coordination ability. This plane can open the top of the plane to reveal the inside and create a play space for hours of imagination and fun. When pushing the toy and watching it move forward far, with an inertial wheel design, the aircraft can maintain a long-distance movement after being pushed. This toy will help vehicles will develop your baby's motor control skills and coordination. It's perfect for schools, party favors, Christmas party gifts, stocking stuffers, gift baskets. Your kid just can't keep his hands off this super cool gift. Order now!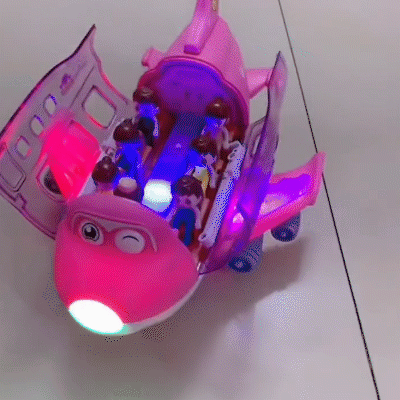 A few reasons why buy from us:
SAFE SHOPPING
We try our best to make your shopping experience not only pleasant, seamless and hassle-free, but also secure.
FREE SHIPPING
Enjoy flexible international shipping services that currently operate in over 200 countries across the world.
FREE RETURNS
It's okay to change your mind! You can send your order back for a full refund, we've got you covered with our full Buyer protection.
NEW ARRIVALS
Brand new products are available on a regular basis.
PRICE PROMISE
We don't want you to choose between the best value and the best service. That's why we offer competitive pricing.
EXCELLENT CUSTOMER SERVICE
Knowledgeable and professional support team is always happy to help you.
EASY TRACKING
Check your order status online. As easy as that!