Baby Tooth Box
"My tooth is loose!" Those words represent a big milestone in your child's life. Preserve these precious memorable moments with this Baby Tooth Box, it allows you to keep your child's baby teeth when they drop and keep them safe – always! A child's teeth starts to fall out naturally when they are 5 or more years of age. The toddler teeth are by far the easiest and most natural, non-invasive source of stem cells. This Baby Tooth Box will be a piece of unforgettable memories that shall be cherished and thanked for by your family.
You can write a profile about your child inside the Baby Tooth Box like; your baby's name, date of birth, birth weight, height, constellation, blood type and best wishes for your baby. There are labels for the different kinds of teeth: molars, canines, incisors and there is a space to save the umbilical cord stump after it falls off and a space for some lanugo hair. This Baby Tooth Boxis made of 100% Handmade New Zealand Imported Pinewood, durable, corrosion-resistant, environmental protective and will not degrade. Suitable for safe long-term dental storage.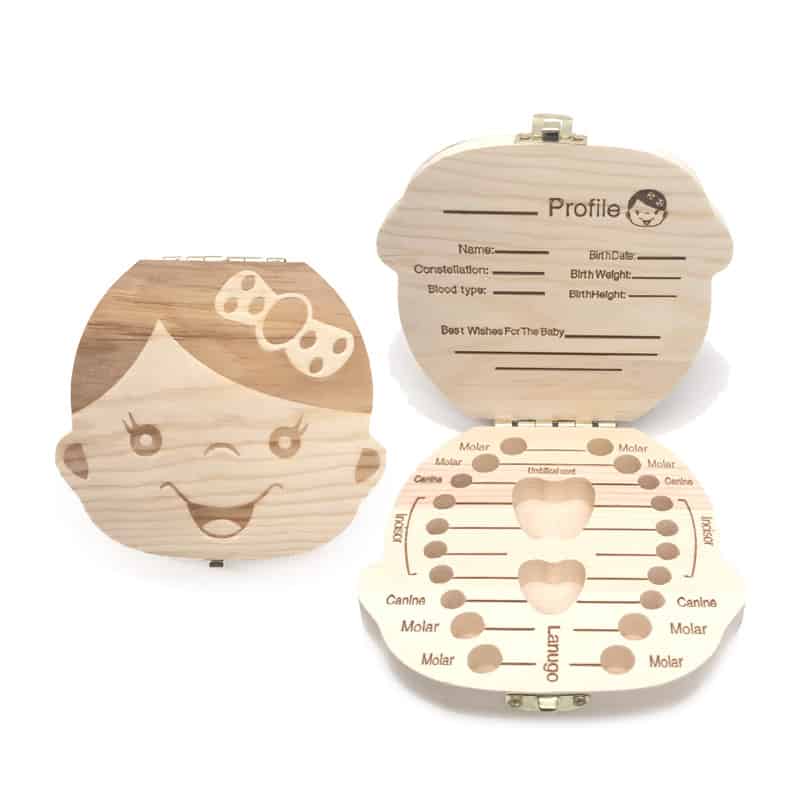 A few reasons why buy from us:
SAFE SHOPPING
We try our best to make your shopping experience not only pleasant, seamless and hassle-free, but also secure.
FREE SHIPPING
Enjoy flexible international shipping services that currently operate in over 200 countries across the world.
FREE RETURNS
It's okay to change your mind! You can send your order back for a full refund, we've got you covered with our full Buyer protection.
NEW ARRIVALS
Brand new products are available on a regular basis.
PRICE PROMISE
We don't want you to choose between the best value and the best service. That's why we offer competitive pricing.
EXCELLENT CUSTOMER SERVICE
Knowledgeable and professional support team is always happy to help you.
EASY TRACKING
Check your order status online. As easy as that!